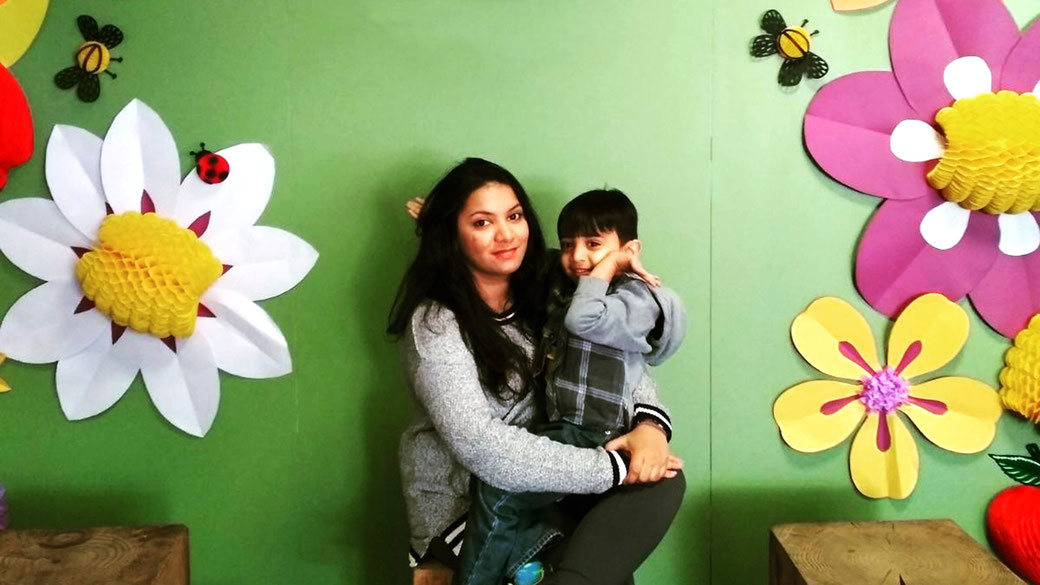 Here is the next one of inspiring interviews with creatives who share about their journey and what it takes to make things happen.
Harshitha Kuttuva Maheswaran is a stay at home mom from India, based in Melbourne, who has transformed her passion for watercolour painting to a nice creative business called Ashwatta's art. In Sanskrit  the word Ashwatta means the "tree of life" or the "tree of knowledge". To Harshitha each branch stands for an art form or style (folk art, abstract art, nursery art, embroidery, craft, lettering, etc.) Each of the blooming flowers is a fruit of her labour.

I met Harshitha in the World Watercolor Group hosted by Charlie O'Shields where she had shared pictures of her son's paintings transformed to vivid printed product designs (below).  
Here's what she says about her passion: I paint and create for joy and sell and teach to keep me boosted. I start my day hoping to create something colourful and practice for pleasure. I dream to become a better artist from what I am today and to create more...
Harshitha was so nice to agree for an interview for Just How Cool Is That?! discussing her creative Journey, gently sharing deep wisdom transcending beyond art.
---
Interview questions:
Hello, Harshitha! Thank you so much for agreeing to take part in Just How Cool Is That?!, the website for creatives to learn and share about their Journey and what it takes to make things happen!

When did you first start painting? How did you discover your passion for watercolours? What makes you prefer it over other forms of painting?


Harshitha: I started painting when I was seven. My sisters introduced me to colour pencils on my birthday. I got very excited and I haven't stopped colouring since then.

I have used various mediums but watercolours make me feel at home. I find them more relaxing and cheerful for their nature and fluidity. I would say I am still exploring and experimenting with them and I'd note they are a forgiving medium.

 

The story began after my marriage when I travelled to the States in 2009. I found heaps of time when I had nothing to do. I rediscovered my interest and took a class on Pastels and Watercolours in Chicago for a short while. Fast forward to 2013, I gave birth to my son and I realised that I needed my space from the routine and I started to paint again - acrylics. By 2016, I had established myself as a hobby artist and opened up my Facebook page, Etsy shop and an Instagram account. These brought me sales and recognition as an artist and some money to reinvest in art supplies.

 
What are your greatest sources of influence and inspiration when it comes to art?
 
Harshitha: Inspiration comes from everything I see. It might be the vegetables I cook or the books I read.
A few years ago, when the Internet was blooming, I found flickr as a great source of information on subjects like art. It served as the visual source of energy. I really miss that period. I came across many artists and their life, through sketchbooks and the way they illustrate. It was a bundle of joy and knowledge shared.

 

I now use Pinterest for ideas, inspiration and learning.

 

Geninne is one of the favourite artists whom I have been following since the flickr era. She is the source of "Wikipedia" to me. I find solace every time I see her paintings and pictures from life. I admire and adore her simplicity and lightness, and the perspective from which she sees the world around.

 

I am recently inclined to minimalistic style of art which helps me see values in colours as a simple art which brings aroma of peace around.

 
Your idea of turning your son's paintings to printed product designs was brilliant! How old is he? Have you used some of your own paintings for the same purpose?

Harshitha: This is my second year on the World Watercolor Month challenge. It was a joy participating and taking up the challenge. I never failed it - even a single day. This year my son Aksharan was around watching me paint and take pictures and I thought of including him as well. He painted four days and produced six art pieces – mostly abstract. I observed the way he chose colours and enjoyed mixing them waiting for the "magic" to happen – i.e. two colours mix to bring a new colour to life. He used more water to dilute the paint and let it flow.

 

I really liked the results and decided to personalise them on products for me. I have a shop on RedBubble where I see my art on printed forms.

 

Aksharan was four and two months when he painted those beautiful abstracts. He has shown keen interest in art. He owns a visual journal where he draws, sticks, stamps, paints, etc. He hasn't taken any formal lessons in art. He uses quality paints and paper. I encourage him to paint.

 
What other fields of art and creativity have you explored? Which ones have you practised, which ones do you still like doing, and which ones are on your to-do list? How does that help you in your current work?

Harshitha: I practised classical dance from the age of seven in India. My lovely sisters and mother were amazing dancers and they inspired me to take up Bharathanatyam. I practised until I turned seventeen and later I got busy with my studies.

 

I have completed my Bachelor's degree in English Literature. I love reading and which is something I want to put into practice now. I am a strong supporter of myths, folklore, tales and anything that has to do with fantasy. Those elements take me to a different realm and I enjoy the sojourn there.

 

You can see some fantastical elements in my art like blooming fish in the form of lotus, and lotus blooming on trees, Hippos are pink and they eat lollies, rainbow snakes, and elephants who love cupcakes etc. It all goes on. These fantastical elements led me to become a nursery art illustrator. I receive custom orders for those and I enjoy doing them.

 

I am not skilled at writing but Literature has led me to 'see things from different perspective' and reading has broadened my visual sense of knowledge. Myths and tales do play a major role in my art and life.

 

I have got a lot on my "to do" list but my primary goal would be to read more books.

 
Many creatives worry their art is not "good enough", or they suffer from perfectionism. How do you know what you do IS good enough?

Harshitha: It was hard in the beginning when my brain was tuned to the word "comparison" and stuck to the word "frustration". Yes! The word "Perfection" was the real challenge. It took me years to surpass it and I found the word "consistent". Being consistent on practising daily helped me improve my skills and ideas. It was hard in the beginning when I was distracted but daily practice became an ordinance and habit in my life. My style and confidence improved.


 

My friends around me are great supporters. They encouraged, criticized constructively, and purchased to support me. So the word "perfection" fell out of place and the word "perspective" helped me realise 'one cannot please everyone and one's own joy is what and how you see' - like the Mirror image. I judge no more and I enjoy creating art like all creatives do.

 

We are lead to believe that haters are everywhere, especially when it comes to art. Have you faced criticism or discouraging comments regarding your work? How do you deal with that?

Harshitha: I do love those who discourage me as much as I love my followers. Some do keep me entertained and boosted. They are in a way essential to me. Every word and action of theirs has taken me to the next level and I value such people.

 

I take things positively. I take a break with friends and family, and talk to them when I feel low and sad.

 

What's been the most challenging part of your journey so far? Have you had moments when you wanted to leave it all?

Harshitha: Like I said earlier, I was frustrated at the beginning when I was feeling stuck in the art world with so much inspiration and distraction. The main challenge I face to this day is about finding my own niche. I know I am a creative person filled with curiosity. It is hard to focus my brain on one single subject. I started my journey as an Indian folk artist and here I am now with abstracts!

 

I have never considered the thought to give up but I do take breaks when I feel my brain is overwhelmed with too many things.

 
What kinds of people are most attracted to your art and how do they learn about you? How can we order some of your works?

Harshitha: Social media serves as a great tool for online business. I have made friends and connected with many people through it. I have a shop on Etsy and I get orders through Facebook. I have more Indian buyers for Indian folk art at the moment.


Which part of your work do you like the most and which part do you dislike the most?

Harshitha: I like everything except writing something to express my thoughts on blogs or pages or Instagram. I find it hard to administrate something of that sort.

 

These days I enjoy packing and going to the post office. I get really excited when a customer takes time to come back to me expressing their review on my product. It's a joy indeed!

 
How do you envision yourself in 5-year time? What would your ideal situation be?

Harshitha: This is a tough prediction. Sadly, I've got no definite goals, but I do envision myself as an inspiring person in various things. I love that things can be done at ease, with love, and from home.
  

What is your final message to anyone reading this?

Harshitha: Don't be quick, don't be fast, take your time, do some slow living, enjoy the stillness, look around, be consistent and stay focused, and do what you love. And if you can't, encourage those who do!
Thank you so much for taking the time to answer these questions! I wish you many more blooming flowers on Ashwatta's Art!

---
Harshitha Kuttuva Maheswaran Today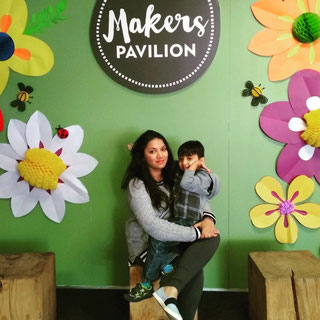 The name of my business Ashwatta's Art comes from the Sanskrit word Ashwatta - the "tree of life" or the "tree of knowledge". It is the symbol of my art.
The Tree of Life has always been associated with various meanings and beliefs in many cultures. To me my Tree serves as a strong foundation. Stay rooted to bring out my talents. Each branch denotes my art form or style. E.g.: folk art, abstract art, nursery art, embroidery, craft, lettering, etc. Each of the blooming flowers is my fruit of labour. The name is ancient and so is the meaning. My tree will surely help me grow and share knowledge with others.
My soonest upcoming project is a show next week here in Melbourne where I am showcasing with other talented artist like me. It's under the organisation called RAW.
You can order my art in my Etsy shop for a worldwide delivery.
People can find me on Facebook and Instagram.
---
---
More cool articles:
---
Have your say!
What are your main sources of inspiration?


How has consistency helped you to progress?

What brings you joy in your art?
Please share your thoughts in the comments below and remember to tell your friends on social media!

Click and share using the buttons below:
---
And now, tell me, seriously, just how cool is that?
Just so cool

Pretty cool

Beautiful cool

Gorgeous cool

MEGA cool
---
Facebook Comments:
---